Back to work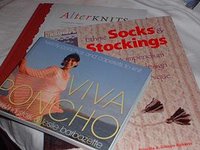 Well, after a couple of days off I'm back to work and pretty much recharged, at least for the week. Another couple of days coming up will help. It was pretty busy today. There are lots of people in town for the Rose Parade which doesn't happen until January 2 instead of January 1. There are a number of churches on Colorado Blvd. where the parade takes place so there is an agreement that when New Year's Day falls on Sunday the parade will be delayed a day. And the Rose Bowl game itself is a couple of days after the parade instead of on New Year's Day the way it's supposed to be! Anyway, we were busy with people we've never seen before as well as a few regulars.
I had a couple of new students today, one brand new one and one who is trying to teach herself. (She's wrapping the yarn backwards so she has twisted stitches. She'll be back in a couple of days and we'll work on that.) The third student needed some help finishing a sweater. It came out way too small. I have it at home with me to see if I can modify it enough so it will actually go over someone's head.
Christmas was delightful. Spent the morning with Lisa and her mom. Everyone was pleased with their gifts and everything fit. I got lots of good stuff. Most everything that I had on my wish list. The books in the picture are ones that I had put on my Amazon wish list.
Viva Ponchos
by Christina Stork and Leslie Barbazette I asked for because a) Lisa likes ponchos; and b) because I know one of the authors. Christina is the owner of
Article Pract
in Oakland. She comes to Pasadena occasionally and I get to visit with her.
I also asked for
Alterknits
by Leigh Radford. It's an interesting book if you're looking for some stimulus to add some spice to your knitting life. I haven't spent much time with it yet. I think I asked for it mostly because I'd read about it on someone's blog and there aren't many knitting books out there that I don't already have. (Except the be happy, quick knits, mindless stuff. I can teach it. I don't have to buy it.)
The real book, the one I really, really wanted is the
Ethnic Socks and Stockings
by Priscilla A. Gibson-Roberts. I have a couple of her other books. They're for anyone who wants to delve deeper into the how-to of things. This is a book I will take with me to read over dinner. It's slow going actually. But it's fascinating. I've become very interested in alternative styles of knitting and this one is definitely about that. While I may not make any of the socks in the book I'll certainly gain a lot of knowledge from it that I can apply in other situations. There are plenty of well drawn illustrations as well as text to amplify the drawings. Can you tell? I really like this book.