Photo finish
I lugged my camera and tripod to Skein today to try one more time for a photo of the Lost Points shawl.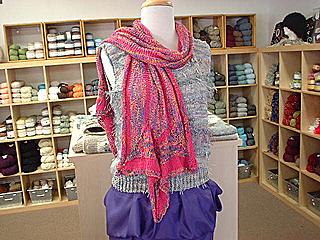 It looks better on the mannequin than I expected it to. But it's really more of a scarf than a shawl.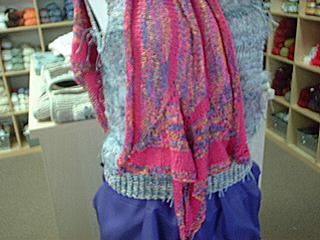 You can see the diagonal line of increases, if you look carefully. But maybe it's easier in this shot.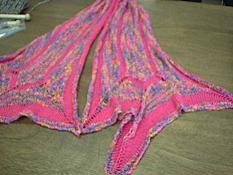 But that's it. No more.
It was pretty quiet most of the day except for the usual flurry around noontime. And that was pretty intense. I did have a couple of students in the mid-afternoon, a mother/daughter combo. They were a lot of fun to be with. Totally different in their ability to grasp the concept. The daughter really had difficulty understanding the step where you pull the yarn through the stitch, you know, back through the window. I've noticed that lots of people have trouble at this point and I can't figure out why. But anyway, by the time they left they were both comfortable with the knit stitch, casting on and binding off. And we had had some good laughs.
I'm covering for the Wednesday night teacher tomorrow. She usually teaches crochet as well as knitting. I hope there aren't any crochet students. My crochet technique is pretty free form. I never crochet except to set in sleeves or maybe put an edge on something. Don't ask me about shaping. But I may try it again just so I can make a hippy shawl on poncho.