As weekends go
this one was exceptional. After a fairly busy day at Skein on Saturday I went home and spent the evening with Lisa. She came over to borrow my digital camera. Then she came back again on Sunday evening to load the pictures. We usually get together about every two weeks so being able to spend two whole evenings with her was extra special.
She needed to borrow the camera to take pictures of the new minister at her church. She also got this picture.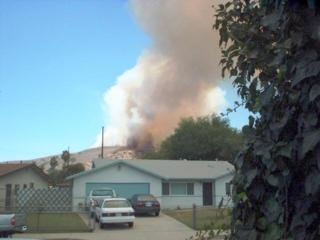 A brushfire had just started in the hills near where her church is. I haven't seen or heard anything in the local news about this fire so I don't know if it's been stopped or contained.
Summer seems to have finally arrived. It's supposedly going to be in the mid 90s for most of this week. I was planning to go out to lunch with a friend today but we had to postpone. So I'll be spending most of today on the mañanita poncho. If I can keep my focus, i.e. not start anything else, I'll be done with it this week. I'm not sure how I'm going to block it. The only space I have that's big enough is the middle of the living room floor. I'm not sure I can keep Patrick off of it long enough for it to dry.