What's up
I got a pattern leaflet from Vogue Knitting a few days ago. It came in the subscription solicitation along with a letter inviting me to resubscribe. Which I didn't. Anyway, the pattern called for one skein of Noro Kureyon, color 102, which I had. I changed the pattern to be worked in the round. It's kinda cute but I'm not sure about that funky looking "tassel" sticking out the top.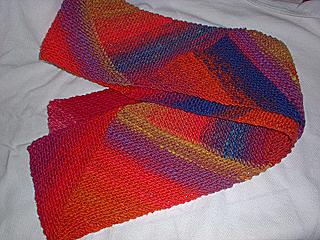 I had a skein of the #102 left over from making this scarf. This is not the same scarf I showed a couple of weeks ago. That was #126. Of course the color is off in both photos. But they're both very orange/red so you can kinda get the idea. Lisa is coming over tonight so she'll be taking these home with her.
It's probably getting too warm for these, at least in the daytime. But it's still cold after the sun goes down.
Being on vacation, even a short, stay at home one is nice. I've been emulating Pat the Cat and taking lots of naps. He's much better at it than I am. And I've been looking through pattern books and stash trying to get them to align in some kind of logical way. I suppose I should be cleaning house but I'm on vacation.