A couple of things
I did manage to finish the Jawoll Denim Socks yesterday.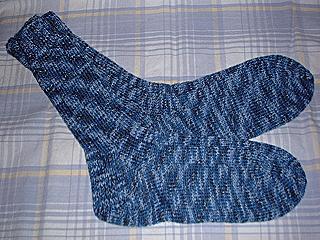 I didn't use the reinforcement yarn that's included. Didn't want to be bothered. But I think I will the next time. I have more Jawoll in a few different colorways. I think I'll see if I can find the yellow.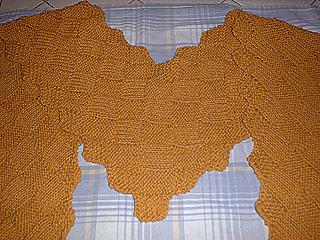 This is the Textured Squares Scarf from Nancie Wiseman's
Knitted Shawls, Stoles and Scarves
that I started a couple of weeks ago. It's sort of a poor man's entrelac. I guess I need to wash and block it to get all those points to show up. There was one tiny error in the pattern but by the time you get to that point you already know what to do.
One of Ms Wiseman's biggies is that scarves, and to some extent, shawls, need to be shaped so they will fit better around the neck and make wearing them more comfortable. This one is a wide V. People who've tried it on say it does feel better. And it's a little more interesting to knit that just plain old straight.
I need to start another pair of socks so I'll have something mindless to work on at Skein. Lammia gave me some sock yarn that she got from elann.com. Did you know they have their own label? So I think I'll start those.