One of the benefits of working at Skein is meeting people and becoming friends with them. People from lots of different places around the world. Yesterday I had lunch with two of the people I've come to know and love. One is from Indonesia and the other from Malaysia. We went to an authentic Malaysian place called Penang. I have to take their word for the authenticity but believe me it was good. I like curry and highly seasoned food so this was a treat. I didn't try the century eggs though. I thought they were figs, and I don't care much for figs.
None of us had anything planned for the rest of the day so we decided to do an impromtu yarn shop hop. We went to
Alamitos Bay Yarn Company
first. It's right on the marina in Long Beach. It was crowded and hot. I overheard someone saying it was 91 degrees. I can believe it. I didn't buy anything but there were so many tempting things. It's a great shop.
Then we went to
Velona's
. Seems like I've been there almost every week for the past couple of months. There's so much yarn there that it doesn't matter. There's always something I didn't see before or that has come in while I was away for a week. I did get a couple of sock yarns for my collection. They had cashmere on sale so one of the friends picked up enough to do a shawl.
After we got back to Arcadia, where we had left our cars, we stopped in at Skein. Ann Mary was busy packing for the move today. It's still scheduled to take place even though the new space isn't completely ready. And a couple of things like telephone and charge card connections are not done. So we'll probably not reopen until Thursday. I'm getting one additional day off. I'm planning to go in for a while on Wednesday and help with restocking the shelves. I hope the air conditioning has been reconnected by then. The contractor cut the line to the air conditioner for some unknown reason. The parking lot hasn't been started. So it's all going to be a bit ragged for a while.
Meanwhile, I've been working on a new scarf.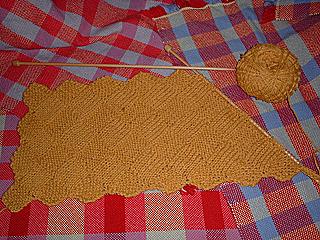 The pattern is from Nancie Wiseman's
Knitted Shawls, Stoles & Scarves
. The yarn is from Grignasco, 100% silk. Shangai. I got it about ten or twelve years ago when Mariposa was still in Pasadena. (Mariposa is a now defunct shop where I used to hang out and work.) I started going through some of my old stash and this was in the very first box I opened, along with several other yarns that I don't remember buying.
So I didn't make much progress on destashing. Got side tracked by all the stuff I found just in this one box. I think that's the main reason I didn't buy much yesterday. I wonder how many other things there are in there that I've forgotten. The mind reels.