More stash,etc.
When I got home yesterday there was a plastic bag sitting by my door.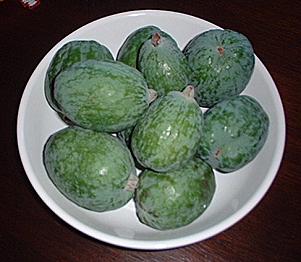 I don't know what these are, or who left them. At first I thought they were figs, then I thought maybe cactus pears. Now I'm thinking they're some kind of pomegranete.
And maybe someone left them at the wrong door.
I got started on the La Luz vest using Fiesta Yarns Sunflower Vest pattern.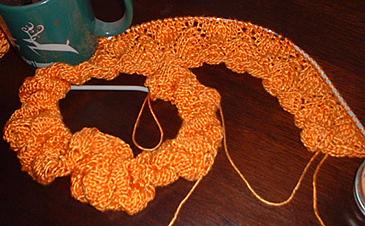 So far I have done eighteen rows at 226 stitches per row. There's only a small amount of lace at the beginning then it's stockinette for the rest of the way. There are some serious problems with the pattern. Well, serious may be too harsh but still, some of the yarn overs were left out of the stitch pattern. And some of the row endings are just plain wrong. Other than that everything is fine.
Here are my newest goodies: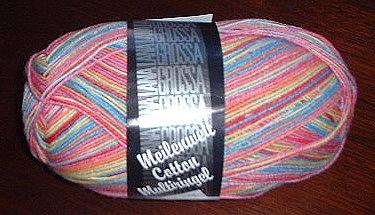 Meileweit Cotton Multiringel sock yarn. I'm not sure I can hold off. I should probably hide this in the sock yarn bin and finish something else first. But those colors are just too fun and funny to resist.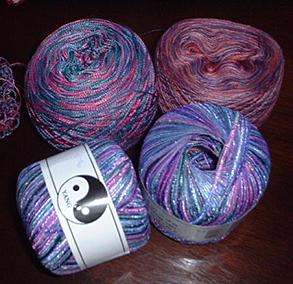 The two wound skeins are yarns that Mendy gave me. She got them from Mystical Creations and didn't like the weight. I got the Yang Ribbon to go with them. If Berroco can run four yarns together so can I. Actually it's lots of fun to combine different multicolors. Kaffe always said so.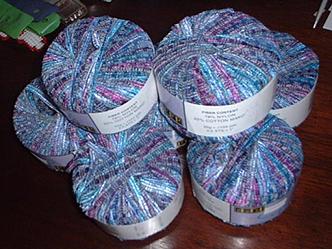 And just because it was on sale, seven skeins of Isis ribbon from FFF. I don't know anything about FFF but I'm seeing more and more of their yarns around town. I seem to suddenly have lots of lavender blue yarn. Gotta watch out for that.