More is more.
There may be times when "less is more" is appropriate. Like weight loss or hours in the work week. But generally I think more is more. Like pizza and chocolate. Or yarn stash. And there's nothing like surrounding yourself with enthusiastic enablers. Having a set of friends who share the same philosophy has lead me to the very edge of my ablility to store my yarn and we won't talk about the damage done to my checking account.
It used to be that you had to get out of the house and actually go to a yarn shop if you wanted or needed some more stash. And while I still do that, a lot, it's much easier to just click a few keys and in a week or so you'll have that new stuff that you don't know what you're going to do with but have to have just because you don't have it already.
Now, I already have some of this: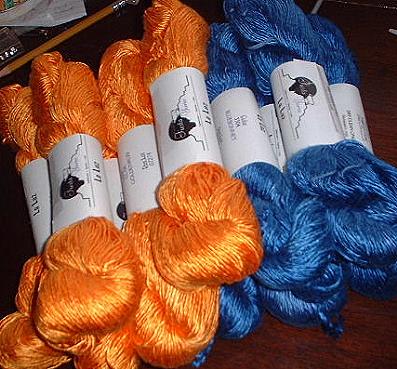 But I didn't have these colors. This is
Fiesta Yarn's
La Luz. One hundred per cent silk. Goldenrod and Bluebonnet. 210 yards per skein. I already have the color Pecan. There are five skeins of each color. And I haven't begun to think about what I might do with it.
Also from the same source: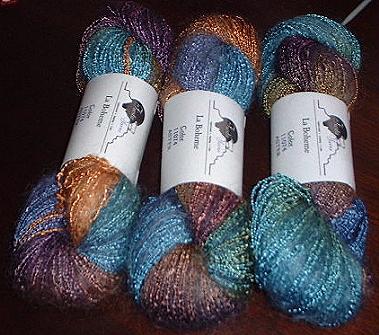 La Boheme. A two strand yarn. Mohair, wool, nylon and rayon. Three skeins at 165 yards each. Big scarf or small shawl probably. The colorway is Aster.
When I'm not working on my yarn collection I've been doing a little knitting. Almost done with the back of the Koigu child's sweater, about halfway through the second Hang Glider sock and I finally started the second half of the Choo-Choo poncho that has been hiding under a pile of new yarn for over a month. Still need to finish the second shoulder strap of the Aran sweater. I'm thinking I should retire again but not when there's so much new yarn out there.