Done stuff and new stuff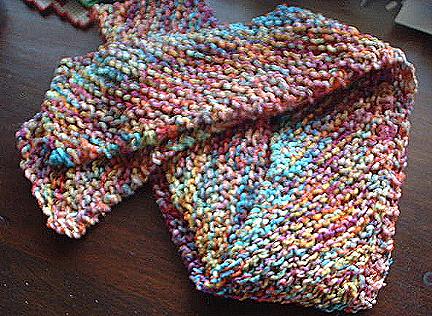 This is the Soy Silk Chenille scarf that I started at the beginning os September. Yesterday, in a fit of cleaning and finishing, I sat down and got it done. It's about five inches wide and a little over six feet long. The colors in the photo are only a pale approximation of the real thing but you get the idea. Doing the diagonal pattern was slightly more interesting than a plain garter stitch. I'd have made it wider but I wasn't sure how far the yarn would go. I do have some left over that I'll probably use in scrap scarf.
And I finished these Saturday night. I need to wash and block them. Part of the yarn felt like someone had dropped a jelly sandwich on it. All the stripes matched until I got to the toes. I must have been one row off when I started the second sock but they're close enough for a galloping horse.
And I am about half way through
this
. I'm making this for Skein as a shop sample. It'll cost you somewhere between $85 and $100 to make, depending on where you buy your yarn.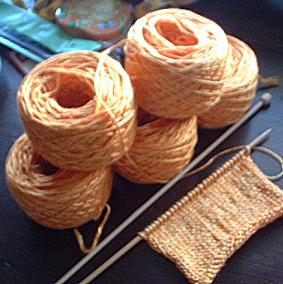 These little pumpkins are the La Luz I showed last week. The color is very washed out here. Last week's photo is more accurate. Anyway,
Ryan
suggested that I could make something for Halloween. At first I thought not but I checked with Lisa and she said she'd like to have a vest or top. I can do it if I put aside the Aran and a couple of other projects that I've been trying to finish. Christmas is still a couple of months away so what's the problem. The silk is lighter than air and easy to knit. I just have to decide on (find) a pattern. I only have 1050 yards so that's a constraint. Mendy is bringing me a pattern she got from Fiesta Yarns that uses this yarn. The one I saw online is plain and that may be all I'll be able to do. But the yarn is very pretty worked up. Even though it's a solid there are enough variations in intensity to make it interesting to look at.