Friday wind up/down
I worked on the Midwest Moonlight scarf last night while I was at Mendy's for the weekly knit together. I hadn't touched this scarf in over a month so it took a few minutes to get the pattern going. I like the pattern and the yarn a lot. I still have about a ball and a half to go before I'm done. If I don't get distracted by any of the other projects I should finish in a few days.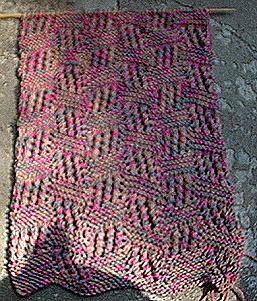 Here's what it looked like a few months ago. It's the same now, except longer.
I need to get back to the Aran I started last month. I want to take this project with me when I go to the Knitters' Retreat in a couple of weeks but I don't want to have to fuss too much with the set up so I'll have to get the stitches picked up across the front of the saddleshoulders and get the pattern started so all I have to do is knit.
I was just on the phone with
Bess
whose post about the KR Retreat last year got me really interested in attending. This is the first time I've actually talked with her although we've been exchanging emails for a long time. What a hoot! and a thrill! Only a couple of weeks to go.
Meanwhile, I'd better get back to packaging my current projects. I have to do this every few weeks or I lose track of where I am. I'm really bad and sloppy about putting things away when I'm done so after a while my living room becomes a tangled mass of needles and yarn. It's really a good thing that the cat isn't interested in my knitting. Or maybe it would be better if he were. Anyway, back to that before I get ready for Skein.