Yesterday was a pretty busy day for me. I took Patrick to the vet/groomer in the morning. While he was getting all done up I went and had breakfast with Mendy. Then home to clean the floor while Patrick was out of the house. And I moved some of the stash that has been sitting around in the living room back into the stash room. Then back to the vet's to pick up Patrick. He was very suspicious about the new arrangement of the yarn boxes. And the clean floor totally mystified him. It took several hours for him to relax. But when he did he gave himself a bath. Guess he didn't think the groomer did it properly.
Here's a photo of the poncho I knit yesterday. Well, I started it on Tuesday night but most of it was done on Wednesday.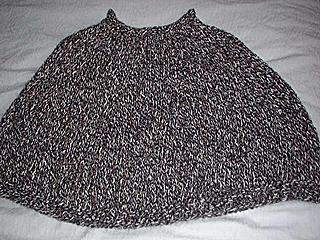 You can't really tell much about it. The yarn pretty much hides the detail. Basically it's a big roll brimmed hat but with more stitches.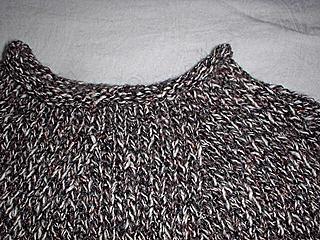 This isn't much better but you can see the yarn and the stitches. I used some yarn I bought a couple of years ago at Needle in a Haystack in Montrose. Linen and synthetic blend. It's probably a little too wintery for right now but it will look good on Lisa with her dark hair.
I found some yarn this morning that I don't remember buying. It was probably at a thrift store since the skeins have a handwritten price of 25cents. The label doesn't give fiber content or yardage. Just says aiguille/breinaalden No. 3 and laine d'aoust. The name appears to be Imosa and the logo has the initial G.D.G. Anyway, I'm wondering if there's a way to tell if yarn has been eaten by moths as opposed to just being old and weak. I rewound the yarn so I could get rid of all the short pieces that kept showing up when I tried to work with it. If a yarn has been invaded by moths does washing the yarn do any good? Will that take care of the problem? I'd like to use the yarn for another poncho but I don't want to if there's a danger of moths. Anyone have any information about this kind of thing? The yarn is very nubby and I think if I use it double that it will look kind of like Persian lamb.