Oh, wow, another scarf.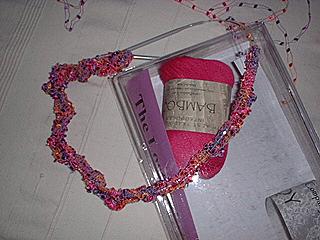 What you see here is three hours of teeth-grinding torture. It's a new scarf kit from
Southwest Trading Company
. The scarf is called The Lost Point Scarf, but I don't know why, except it will have three long points on each end of the scarf.
I've worked with other railroad type yarns but this one is the most tedious I've run across. It's nylon and rayon and is limper than the other railroads I've used. Right now there are 156 stitches, and that's just the center stripe.
The second yarn, still in the box, is 100% bamboo and is called, appropriately enough, Bamboo. I haven't tried it yet but a friend did. I thought it was a little stiff on the smaller size needles but on the US8, which the pattern uses, I thought it was all right, not soft but not stiff.
I must remember to tell Ann Mary that this pattern and yarn are definitely not for the new knitter, unless he/she is very determined and strong willed.