Seems like there's some problem over at Blogger. Trying to log on for a couple of hours. Oh, well.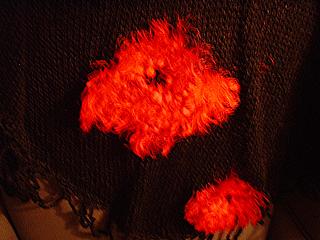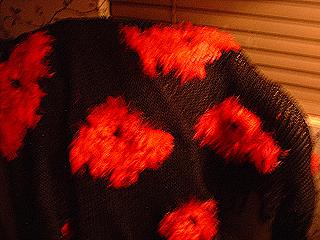 Finally, I'm finished with the shop shawl sample. The top photo shows a detail of the yarns, well sort of. It's Prism Popcorn and something fuzzy, also from Prism. The lower photo shows how the poppies are distributed across the shawl. The black background is Bouton d'Or's Organdi. Not what the pattern called for but we didn't have the Trendsetter Dulcino in stock.
I'm glad it's done even if I don't care for it very much. I've been trying to only work on it while I'm at Skein but decided to just finish it at home tonight. Now I can concentrate on holiday stuff.
It was insane again this afternoon for about an hour. One person commented that it was like the day before Thanksgiving at the supermarket. I'm not sure if Ann Mary ever got to have lunch. When I left tonight about twenty minutes after the store closed there was still one customer trying to make up her mind.
I just finished writing a pattern for Lina using the Sweater Wizard program. We're doing a bell sleeve. I guess SW doesn't know how to do decreases on the lower part of a sleeve. It did show the stitch count but didn't have any text explaining when to do the decreases. I like Sweater Wizard but you still have to do a lot of the work yourself, sometimes.